Clinician experience and satisfaction, is of utmost importance when it comes to attracting and retaining candidates and the ability to provide quality care for patients. With compliance and documentation increasing in complexity, it has become vital for clinicians to have a post acute documentation solution that increases efficiency and documentation quality. Homecare Homebase's partnership with nVoq Incorporated, addresses these issues for providers including Amedisys, Inc. Watch our webinar and read on to learn more about how Amedisys is using nVoq's speech recognition solution, which has resulted in reduced post acute documentation time and has allowed clinicians to spend more time caring for their patients and families.
The webinar features commentary from Dr. Amy E. Moss, SVP Clinical Operations HSP at Amedisys, Inc., Brandy Sparkman-Beierle, Chief Clinical Officer at Homecare Homebase, and Chad Hiner, VP of Customer Experience at nVoq Incorporated.
Activities such as post acute documentation, managing patient acuity, and scheduling are hot topics in the medical and home-based care industry. Additionally, clinician recruitment and retention are getting a lot more attention as clinicians are increasingly experiencing burnout and exiting their professions.
Today's discussions with candidates, Dr. Moss says, focus not just on the work they are doing, but how they are doing it, which has challenged Amedisys to change the conversation with potential candidates in order to better position themselves as an employer. According to Dr. Moss, with new clinicians coming into the hospice space, ​"It's an opportunity for all of us to really leverage a piece of the workforce market that really may find satisfaction in the work that we do, particularly when you think about flexibility, ability to be creative and innovative, to be kind of your own decision maker in the field."
Dr. Moss expresses that the key strategies they are deploying around clinician satisfaction and experience are measured by listening tours and employee satisfaction surveys. It is important for teams to listen to what clinicians have to say and to respond. Some key strategies include:
Communication – Clinicians want two way communication with different types of communication and delivery than before.
Empowerment – Clinicians want to feel that they are practicing at the top of their license and being a part of change management discussions.
Operational Efficiencies – Clinicians understand that they must participate in post acute documentation but want to consider making changes and improvements to the way it has been done in the past.
Dr. Moss found there was a disconnect between what would be discussed in a team meeting or admission encounter and what was being captured in an EMR. In hospice, she says, it is really about telling a story, which feels more natural when you're verbally sharing the information rather than writing or typing. The question became how to make sharing the patient's story easier and more straightforward, which led to a meeting with nVoq Incorporated. The relationship led to positive outcomes that neither organization expected.
About nVoq Incorporated and its impact on post acute documentation and clinician satisfaction:
nVoq Incorporated was founded in 2000 and is the industry leader in providing speech recognition solutions to the home health and hospice market. In partnership with Homecare Homebase, they pride themselves on their ability to improve documentation quality and more efficiently and effectively capture patient stories.
In short, one can generally speak a lot faster than they can type, and with nVoq, physician and clinician notes become more accurate than if they were typed. This leads to improvements in:
Clinician satisfaction
Quality of post acute documentation
Increased efficiencies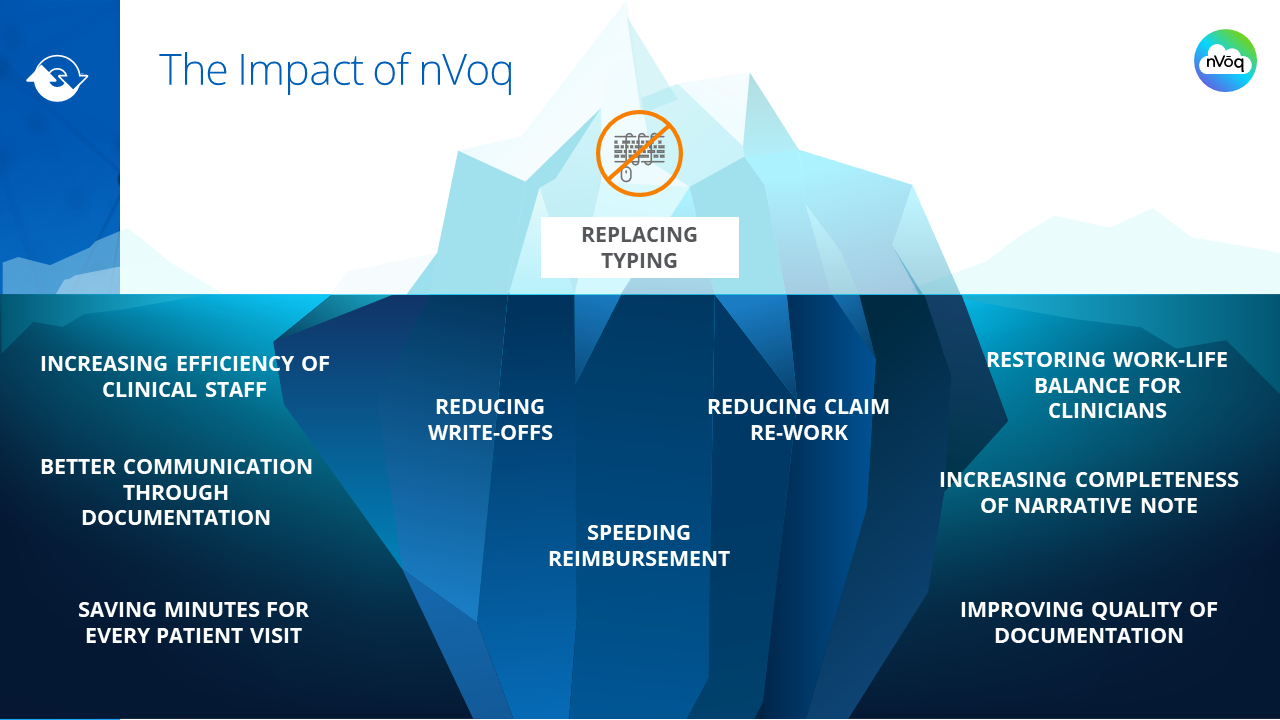 The greatest benefit of this partnership, according to Dr. Moss, is the work-life balance it provides clinicians. ​"It's about taking care of our patients and families, and in order to do that, I have to take care of my employees."
nVoq Incorporated conducted a study with Amedisys physicians who had performed thousands of narrative notes by typing. The physicians were trained to use speech recognition and monitored while using the tool for their post acute documentation. The test population did a pre-and post-analysis using five key terms. Amedisys saw a:
10% improvement in the inclusion of the Palliative Performance Scale score in documentation
35% improvement in the inclusion of disease progression descriptions
39% improvement in the inclusion of prognostic statements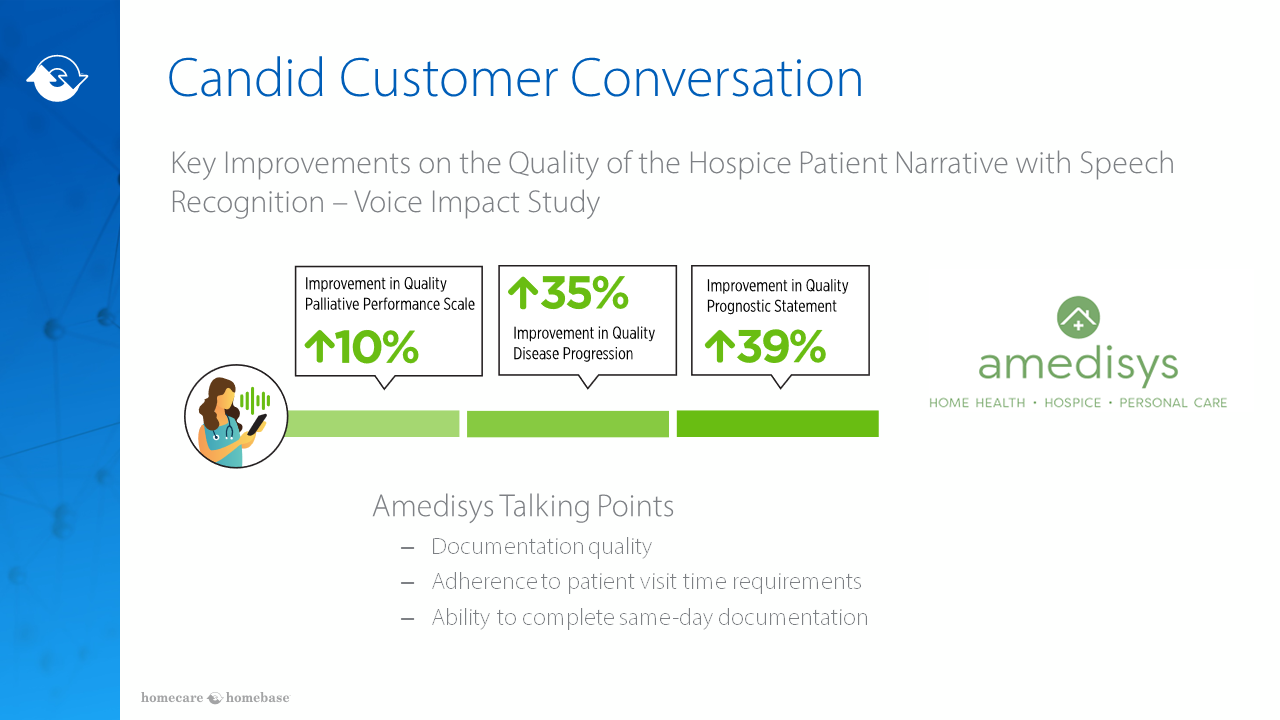 How nVoq Incorporated and Homecare Homebase work together
Homecare Homebase and nVoq's speech recognition solution are a great pairing because the technologies build off one another. HCHB offers the guard-rails and vehicle to obtain and track the elements required for compliant documentation, as well as important behavioral factors like how long documentation takes each clinician. nVoq's speech recognition solution installs easily on the devices clinicians are using in the field and allows them to complete documentation in a way that is faster, feels more natural and allows for more thorough documentation. HCHB's behavioral data was also vital for nVoq's case study with Amedisys. HCHB data was used to help the teams evaluate the difference speech recognition made in the documentation process.
The downstream impact of having a high quality note is the increased quality of care delivered. Patients have a story, and clinicians are responsible for telling that unique story in order to ensure that their patient care plans are informed and based on accurate information.
Providers can impact clinician satisfaction by improving post acute documentation consistently and across the board.
Amedisys started with a specific need centered for its physician contractors, but now see the value that nVoq's speech recognition solutions provides to other members of the inter-disciplinary team.
To learn more about nVoq Incorporated's speech recognition solutions, visit their website here. To learn more about Homecare Homebase solutions for home-based care, visit our Solutions page.