EVV requirements outlined in the CURES Act go into effect on January 1, 2023. Homecare Homebase is working with our customers to balance home health EVV requirements across multiple states and create streamlined processes in order to stay compliant. In our recent webinar, Don Beisert, Product Manager, Interoperability at Homecare Homebase, and Brandon Quinn, VP of Implementation at CellTrak, discuss specific EVV requirements for providers, how to use EVVLink across your enterprise, and tips and considerations for setting up EVV processes.
What is EVV?
EVV, or Electronic Visit Verification, is a CMS data submission requirement that impacts skilled services including Personal Care and now Home Health. States have various interpretations of what EVV includes. Personal care EVV can also include behavioral health, autism, I/​DD, and respite; and Home health EVV can also include private duty nursing, physical therapy, occupational therapy, speech therapy, and even hospice in some states.
75% of states are working on EVV requirements for home health. Providers have three responsibilities when it comes to EVV:
Collect compliant compliant EVV information at point of care. As a provider, your biggest priority is making sure your staff is using a system that is EVV compliant, such as PointCare, and that you are collecting accurate information.
Relay the information to state and MCO payors who require it.
Submit claims for payment.
Does home health EVV compliance apply to me?
Personal care and home health EVV is determined at the state level and can include any service that is paid for by Medicaid. It is not affected by provider type either, so the majority of states will require EVV if the service is on the list regardless of who it is delivered by.
EVV is not required if the service is paid for by Medicare, private pay, managed care, or commercial. The figure below further breaks down the characteristics of agencies with EVV requirements.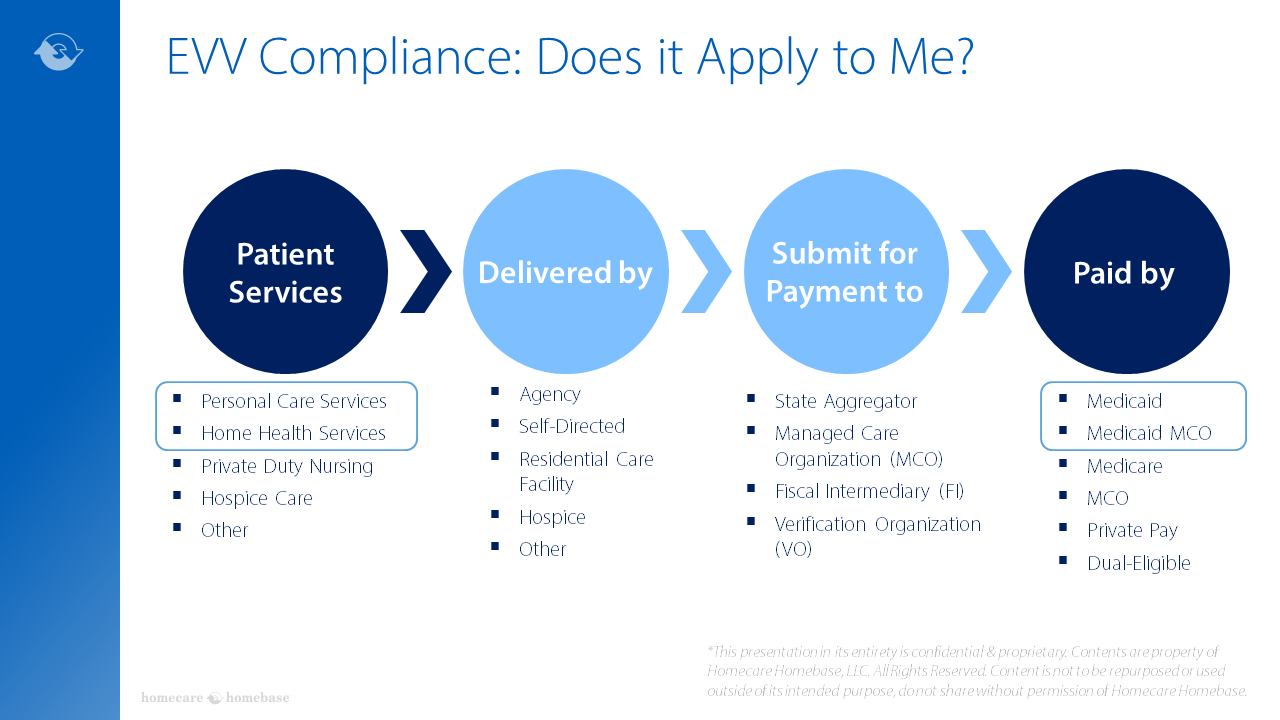 How providers can prepare for home health EVV
There are five main ways that you can prepare for home health EVV:
Know your state guidelines including the EVV policy, information required, and oversight method
Know your state timelines for interface, go-live, and claims denial
Know your payors (state Medicaid or MCO) and their billing requirements
Know the affected services. What does your agency deliver at the procedure code level? What does your state require for EVV?
Join state stakeholder calls to start collecting EVV data now
If you are in multiple states, this means you can have different requirements per state. The more states you are in, the more complicated the EVV process becomes. This is where Homecare Homebase and CellTrak have partnered to create an enterprise EVV solution for HCHB customers.
The solution: EVVLink
Homecare Homebase and CellTrak have come together to simplify EVV. When you use Homecare Homebase as your backend and PointCare as your frontend to collect EVV data, the CellTrak integration with Homecare Homebase and acts as a bridge between HCHB and the aggregators to make sure the right visit data ends up in the right place.
EVVLink benefits parties such as multi-state agencies who provide several lines of service or who submit to more than one payor or MCO, as well as agencies that are growing by acquisition with multiple back-end systems. It works with your existing systems and in any open state/​MCO.
You can be compliant with EVV by using PointCare while licensing the EVVLink solution. This allows you to maintain your current workflows within PointCare and Homecare Homebase including:
Scheduling visits
Conducting visit documentation – marking visits complete (or incomplete if more documentation is required) in PointCare before leaving the patient's home will capture a timestamp and GPS coordinates for EVV compliance.
Billing – this process can continue as normal through Homecare Homebase. However, the actual claim submission will be coming out of the data aggregator.
EVVLink and state-level compliance
When using Homecare Homebase, you are already collecting home health EVV data, regardless of whether you are using EVVLink. The EVVLink solution packages the data and submits it to the state according to their specific requirements. It allows you to use one solution, Homecare Homebase, regardless of your payor.
Homecare Homebase then looks at the submission requirements for each state and adjusts the way the data is submitted in the backend to fit state aggregator's needs.
Integrated EVV for home health: how it works
When the worker goes out to the patient's home for a visit, PointCare captures the patient and worker information, the service provided, the clock-in and -out times, and the GPS coordinates. EVVLink then packages the data to submit to the aggregator.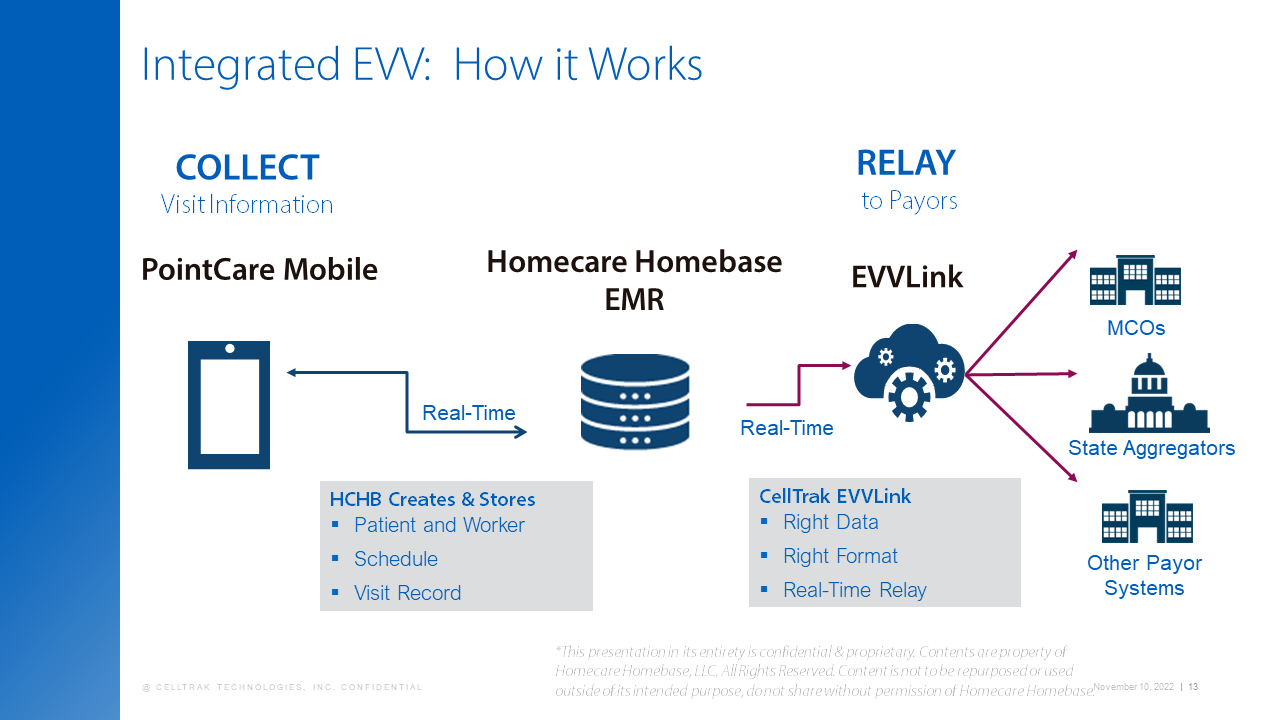 EVVLink currently has 40 aggregator interfaces connected to 416 payors as shown in the map below. There are a few states that we are working on building integration with and others that do not allow for integration. If you would like an update on our collaboration with a specific state, reach out to our Sales team or your Account Executive (for HCHB customers).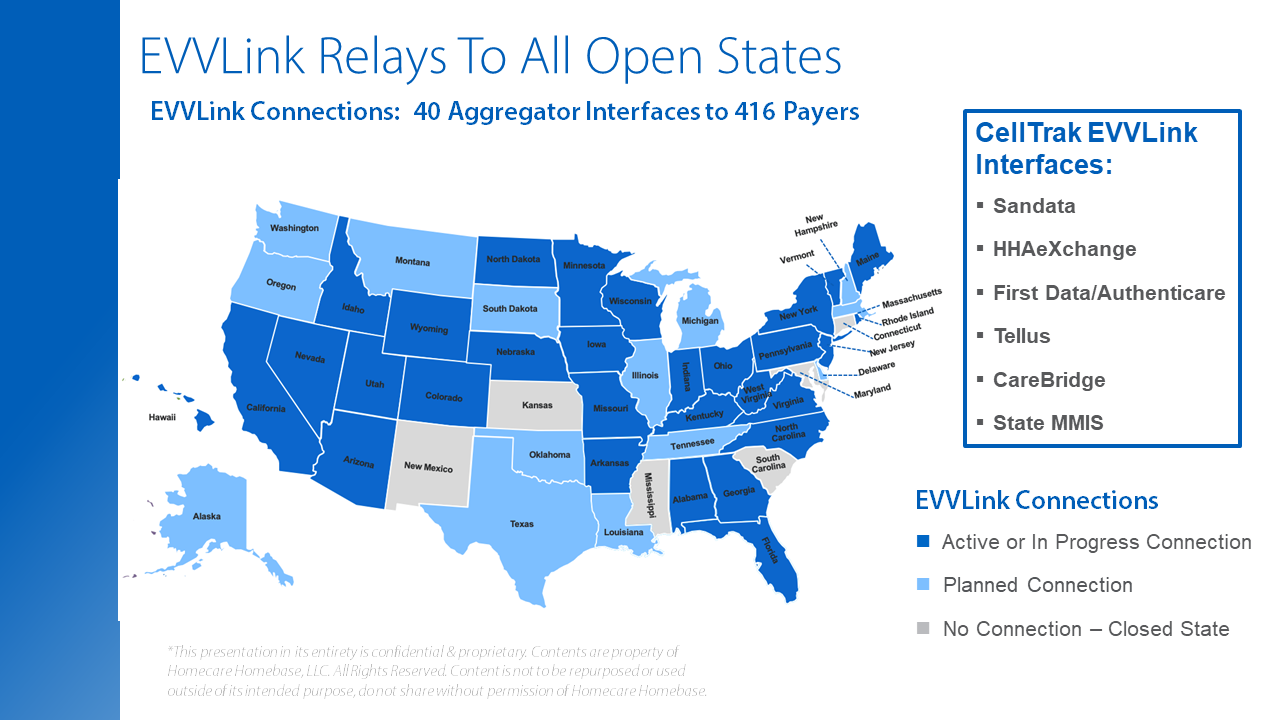 EVVLink allows you to use your existing workflows, saves time for your workers, and streamlines the claims reconciliation process. CellTrak has submitted over five million EVV transactions to data aggregators, and about 20% of that total volume is coming from Homecare Homebase. There are currently 39 different agencies in 11 different states submitting EVV data, with 13,000 transactions submitted per week.
Additional benefits of the EVVLink solution for home health EVV
An additional benefit of using the EVVLink solution with Homecare Homebase and CellTrak is proactive monitoring of all state requirements. This includes regulatory changes and updates, key dates for soft launch and claims denial, aggregator API development and integration, payor/​aggregator relationship tracking, and working with closed billing states to enhance provider experience.
CellTrak and HCHB are also considering ways to increase the visit acceptance rate. HCHB's workflow ensures that visits capture the required data before aggregator submission, increasing acceptance rates while decreasing the operational burden of monitoring rejections.
Next steps for home health EVV
EVVLink was developed to simplify EVV,increase accepted visits and avoid claims payment delays and denials. If you are interested in learning more about the EVVLink solution, visit the EVV page on the CellTrak website.
Next steps for home health EVV compliance include the following:
Identifying your payors and documenting their procedure codes
Contracting your account executive for EVVLink information, signing the sales order, and getting your implementation team assigned
Partnering with the team to map payors to the appropriate state aggregator requirements and create a project plan
Set an EVVLink go-live date to start submitting real-time compliant data by payor and begin compliance monitoring
Catch our full webinar on EVVLink here. To learn more about he partnership between Homecare Homebase and CellTrak and how it can benefit your agency, visit this link.