The Covid-19 challenge, along with increased regulatory demands and staffing shortages have many home-based care agencies reeling. It's no surprise that more of them are looking to leverage sophisticated data and reporting tools like Homecare Homebase (HCHB) software to maximize their precious resources and stay focused on patient care. Here are 5 good reasons to consider a comprehensive software solution for 2021:
#1 – Faster, easier documentation
HCHB's powerful mobile software reduces duplicate data entry and makes it easy for clinicians to complete all required documentation quickly and easily — right at the point of care. It uses simple, intuitive prompts to help ensure the critical data and patient notes are captured and shared with the patient's entire circle of care.
#2 – A better way to recruit and retain top talent
Because today's home-based care clinicians want to spend less time on paperwork and more time with patients, HCHB software is a valuable recruiting tool. As the industry's #1 software, it's widely known as the gold standard – and candidates who've used it previously often ask for it by name. In this super-competitive hiring environment, it's a huge boost for your agency.
#3 – Enhanced patient continuity, star ratings and outcomes

HCHB has sophisticated scheduling tools to help send the right clinician, to the right patient, at the right time, which can boost continuity of care and patient satisfaction star ratings. In fact, the average HCHB customer rating is 3.8 stars, which is well above the national average of 3 stars. We also partner with predictive modeling companies to better anticipate critical care needs and incorporate specialized tools for outcome improvements in areas like enhanced wound care. All of these help foster better patient care with improved outcomes.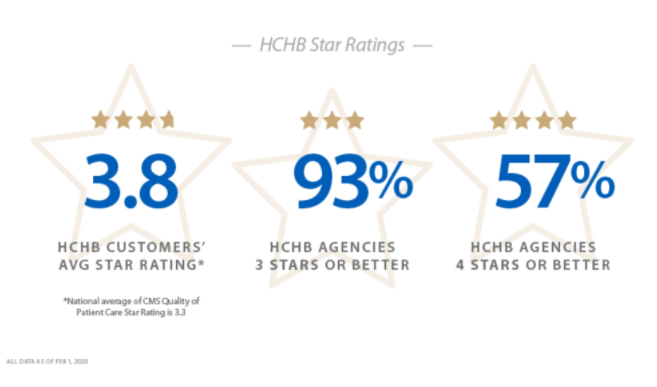 #4 – Streamlined compliance

Covid-19 threw an extra layer of complexity onto the growing heap of requirements that could have easily overwhelmed home-based care agencies in 2020. At the start of the pandemic, HCHB's dedicated compliance staff moved quickly to build new dashboards and tracking tools to keep agencies compliant with the new and changing requirements.
We also make it easier for agencies to set up and prepare for health care surveys and audits – one less worry during this challenging year.
#5 – Extra support with help desk and revenue cycle management

In 2021, more and more agencies are outsourcing their tech support, billing and back office functions to the experts at HCHB. Why? Because we can save them time, money and hassle while accelerating AR cash flow and boosting net collections. With HCHB, agencies can stay focused on what they do best – providing exceptional patient care.
Homecare software's future role

Home-based care will continue to ramp up in the year ahead. More and more companies are seeing Homecare Software that can service all of their service lines from home health and hospice to personnel care and private duty. To keep up with the increase and the growing complexity of pay-for-performance care, agencies will need to leverage the kind of data technology Homecare Homebase offers to stay profitable and competitive in the changing marketplace.

To learn more, email us at info@​hchb.​com