At the end of each year, home-based care agencies across the nation are seeking to make data driven planning decisions as they lay out upcoming initiatives and goals. Using HCHB Analytics, providers can tap into data from the Homecare Homebase EHR software to:
Create benchmarks and realistic targets for the future
Forecast admissions
Plan for staffing needs
Anticipate the impact of regulatory changes
In a webinar hosted by Home Health Care News, Andy Guarnera from Homecare Homebase and Michael Brents from CommonSpirit Health at Home shared insights on how to get the most out of your analytical data and plan for the future. Below are some highlights and tips from the webinar. Watch the full webinar here for a full explanation of these insights.
How do you use data to create benchmarks and targets?
It is easy to get overwhelmed by the sheer amount of data and detail, you can't take every data point into account when you are planning so it is important to narrow your focus down to the data that really matter. Ask yourself the following questions to make sure you are analyzing the data that really matters.
What metrics hold the highest value?
Are they measurable? How can you make them measurable?
Are they actionable? What will you do to spur improvement?
Approaches to benchmarking
You can't measure your progress or confirm whether you have achieved your goals without first establishing benchmarks to measure your agency against. A mixture of internal and external benchmarking is recommended so you understand the current state of your company internally and how your agency compares to other home based care organizations.
Depending on the size of your agency, you may consider creating internal benchmarks by comparing:
Branch locations
Teams
Case Managers
When setting external benchmarks, try comparing yourself against other organizations of similar size by using data from CMS, data provided from your EHR or other resources such as the market data available through Trella Health. HCHB medians are an example of EHR provided data that can be used for external benchmarks. These data points allow you to compare your performance in a metric against average HCHB customers of comparable size to your organization.
4 Tips for setting and monitoring targets
Once you have established your benchmarks, it's time to set and monitor your targets for the next year. Here are four tips for setting targets and monitoring your progress to ensure you meet your goals.
Make sure your targets are realistic achievable and sustainable. Take market volatility into account for each benchmark as well (as much as possible).
Focus on problem areas and manage by exception. Use color in your dashboards to draw attention to problem areas quickly.
Consider setting up alerts or push reporting for key metrics. Alerts and push reporting help key team members monitor your progress and make it harder to forget important review tasks.
Make sure you set up a consistent process for reviewing metrics. Have a clear plan that states who should be looking at which metrics and how often. Include processes to hold people accountable for meeting targets that are tied to these metrics to ensure you trend in the correct direction throughout the year. For example, use the subscription feature to receive a copy of a dashboard on a certain day each week. If that data raises a concern, know who needs to be brought in to investigate and address the problem or opportunity.
Data driven planning and forecasting
Take seasonality into account when creating your forecasts. Most industries have semi-predictable rises and falls throughout the year, so comparing quarter to quarter or month to month isn't always the best strategy. If you can capture historical trends that include seasonal changes you will likely end up with much more accurate forecasting. For example, HCHB Analytics is powered by the Tableau Software which comes with a built-in forecasting feature that helps take seasonality from your previous data into account.
Planning for staffing
Staffing challenges are the number 1 concern for many organizations in home-based care. The more data you can leverage to address and plan for potential staffing issues the more prepared you will be to tackle recruitment and turnover challenges.
Start by using your EHR analytics to create custom performance benchmarks based on your staffing data. Then use this information to create customized staffing models that give you an understanding of how your staffing needs will change as you grow. HCHB Analytics provides a field productivity dashboard that can be used to understand how your staff is performing.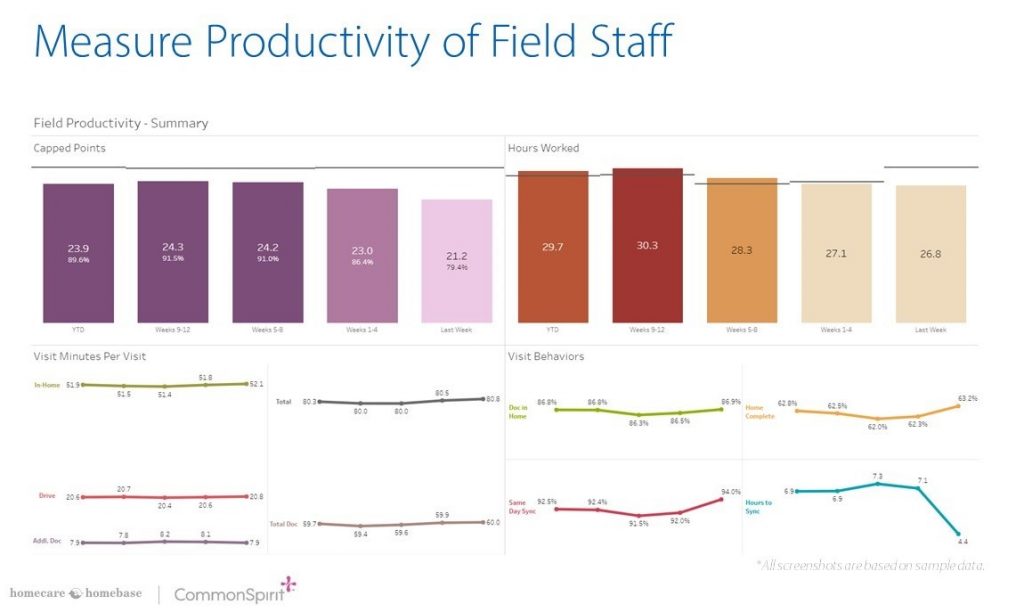 Explore your field staffing data to find opportunities for optimizations and efficiency improvement. To do this, utilize views like the HCHB Analytics Staffing Optimization and Caregiver Optimization Dashboards to evaluate whether you have the best ratios for skill sets.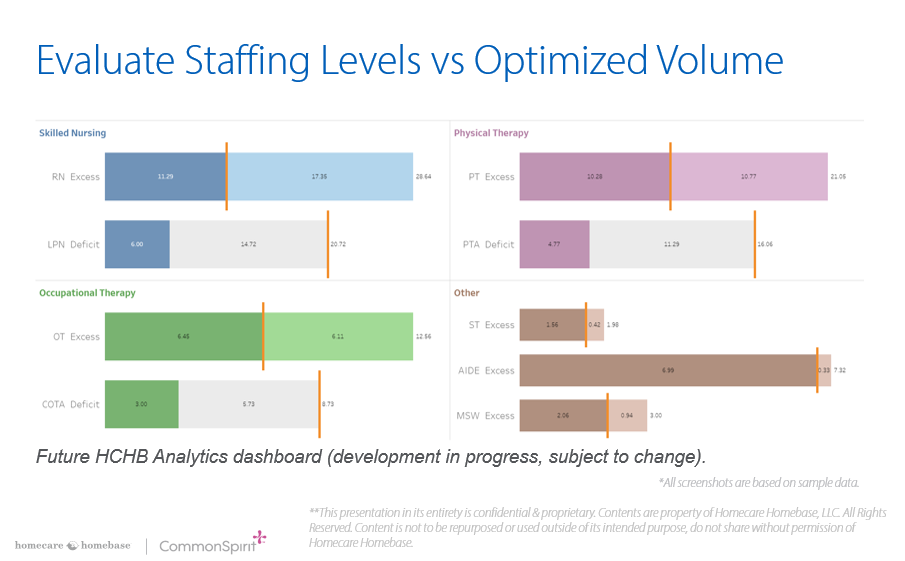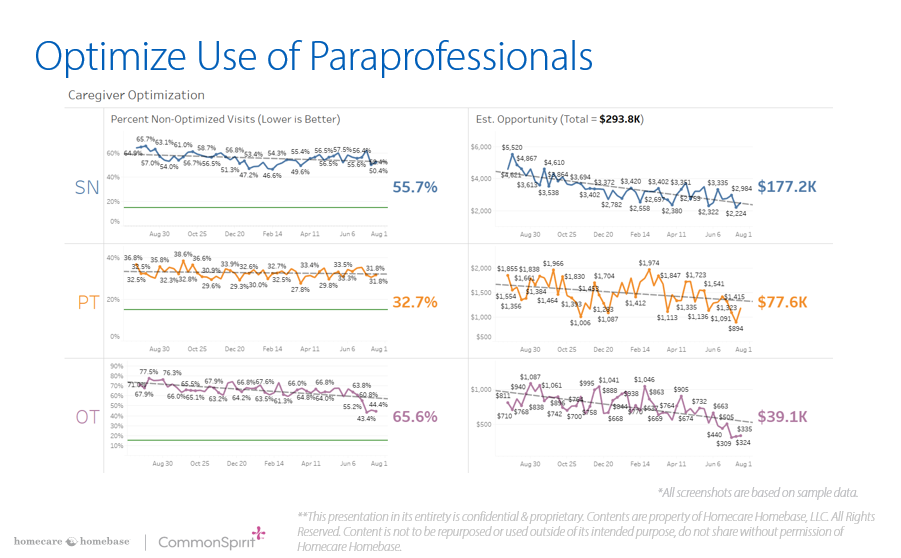 Use Workflow data to evaluate office staff productivity and have conversations with workers about the data that you are seeing.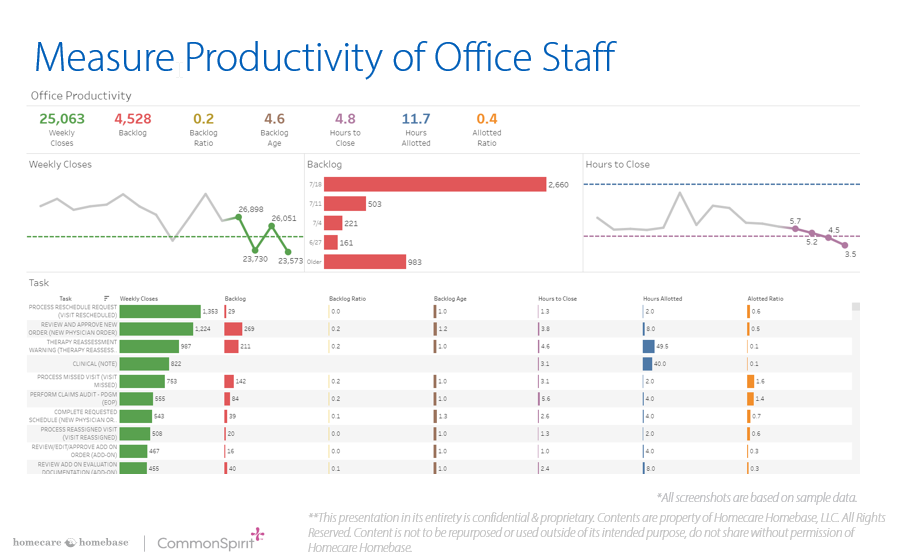 Regulatory preparation
Last, but not least, make sure that you take expected regulatory changes into account. Make sure you understand how new regulations will affect your organization financially, as well as operationally. To help with financial forecasting, HCHB creates an ​"Impact Model" after each CMS proposed and final rule. The Impact Model Dashboard shows you the potential financial impact of the CMS changes and gives you an opportunity to look into the future, make updates and avoid potential pitfalls from changes. Review your revenue impact, as well as expected changes broken down by case mix, functional impairment levels, comorbidity adjustment mix, outlier revenue and wage index and more.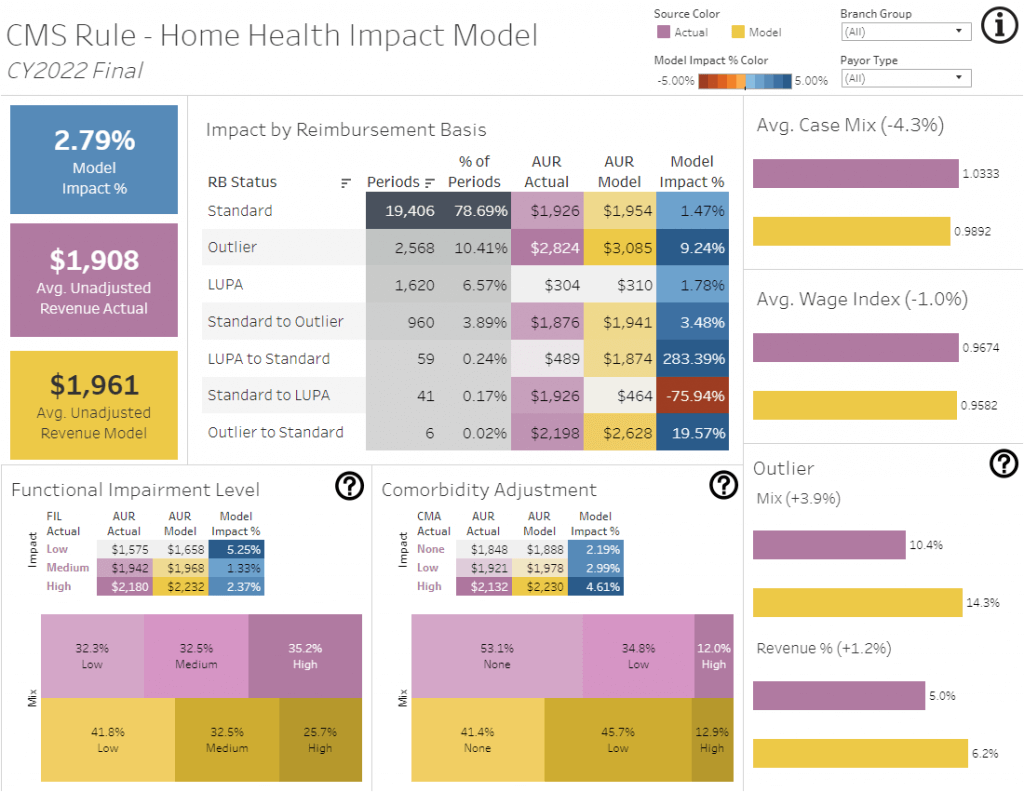 In addition to the impact model, you can use dashboards to track important revenue metrics like days to RAP, aging unbilled periods and office bottlenecks that may hold up your revenue cycle processes.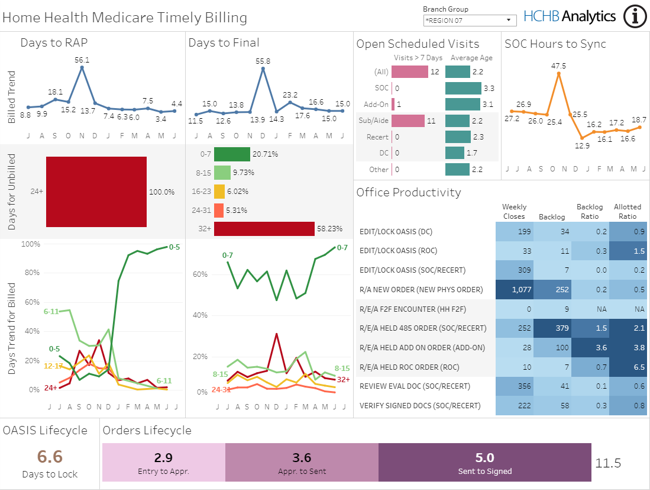 Leveraging analytics to achieve data driven planning is key to increasing efficiency across your agency's operations, staffing and revenue processes. It is vital for leaders to be able to pull the data they need from EHR software quickly and easily. HCHB Analytics is designed to meet customers' analytics needs. To learn more, check out the webinar that dives deeper into this topic or reach out directly to HCHB here using the contact form on the website.