Homecare Homebase (HCHB) and Forcura clients have benefited from the integration between the EHR and healthcare workflow management platform since 2018, but both partners know that technology must continuously evolve to remain valuable and strive to solve the challenges our clients face.
With that in mind, HCHB recently sponsored a report, ​"Home-Based Care Outlook Survey 2023," to gather and share intelligence about the latest concerns providers are experiencing in the industry and how they plan to navigate them. Forcura, likewise, has commissioned its own report, ​"Referral Challenges and Opportunities in Home-Based Care," and will see its findings published in June 2023.
HCHB's ​"Home-Based Care Outlook Survey 2023" revealed that providers are concerned about staffing, growth, and resource allocation, particularly under shifting economic pressures. While more than half of the respondents indicated aggressive growth plans for 2023, 72% noted that their companies could benefit greatly from improving efficiencies in staff utilization and referral management. In addition, a combined 66% said they plan to invest in technology to improve staff management, automation, and interoperability.
The results illustrate how the industry wants to expand its footprint but isn't sure how current staffing shortages and administrative inefficiencies will challenge this goal. However, most organizations are willing to invest in technology that can help alleviate these issues.
With HCHB and Forcura, home-based care providers will not have to wait long for a solution that addresses their needs. The partnership will leverage its integrated technology in the coming months to offer providers more efficiency, automation, and interoperability where it is currently needed most – the intake and referral process.
Forcura's new Referral Hub functionality will allow providers to centralize all referrals in a single inbox, regardless of transmission source or method. Enhanced automation will provide staff faster access to data that they can review, sort, and prioritize based on business factors such as patient demographic data, payor name, and referral source.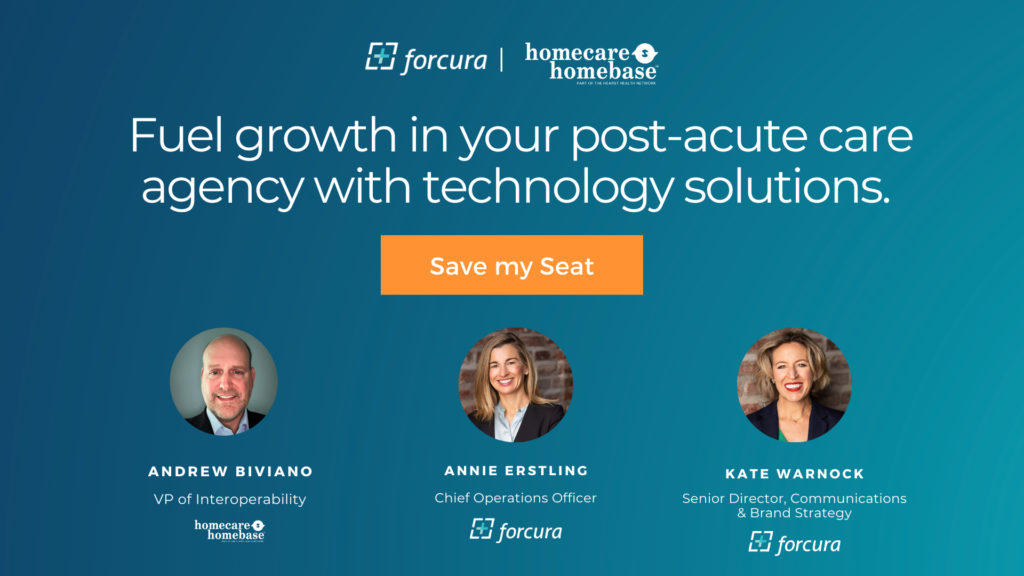 The new capabilities will offer a smoother and more transparent process that enables staff to make smart, informed decisions and accept the ​"right" referral, rather than just any referral, at the start of care. The Referral Hub will help build referral partnerships and optimize resources, leading to better staff allocation and satisfaction while streamlining the runway for growth.
Are you ready to see the HCHB – Forcura integration in action? Save your spot for our upcoming webinar on May 23rd, 2023, at 2 p.m. EST, or, if you plan to attend the HCHB Users Conference on June 12-14, don't miss the panel discussion including experts from Forcura, LHC Group and Reliant at Home. Learn more about the upcoming solution and how HCHB and Forcura are helping to close the technology gap for your home-based organization, empowering it to achieve new heights in 2023 and beyond.