Homecare Homebase led a panel at Forcura's 2022 CONNECT Summit in January. This panel, entitled The Future of Home-Based Care: Preparing for 2023, included HCHB's Senior Vice President of Sales, Gary Voydanoff, as moderator and Chief Strategy Officer Scott Pattillo. Jeff Shaner, Chief Operating Officer at Aveanna Healthcare, which is both an HCHB and Forcura client, also took part to share a provider's perspective.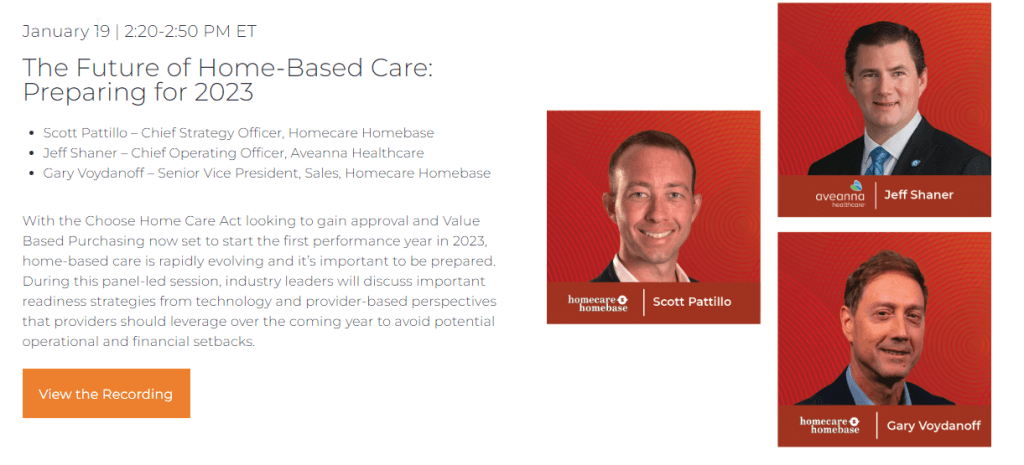 The session focused on the most anticipated developments of 2022 and what tactics providers can leverage to prepare for them. In this blog, we will share some of the important takeaways from the discussion.
Choose Home legislation: Jeff Shaner addressed the importance of this legislative action. Choose Home is validation from government leaders that care at home is the preferred solution for most consumers and that appropriating financial and structural resources to the sector are warranted. In return, CMS is demanding that Home Healthcare providers raise the bar in the way they deliver care; higher volumes and acuity levels will require more sophisticated care plans and optimal workflows, making a case for expanding supplemental (and increasingly popular) solutions such as non-skilled care, and deploying more automation and analysis-driven tools.
Dependence on technology: From laptops to wearables to everything in between, home healthcare agencies will need devices and software that produce reliable data involving a patient's status, clinical outcomes, predictive care planning, operational performance, and other metrics. Scott explained that HCHB is constantly developing new technologies to help clients overcome challenges through various efficiencies and achieve goals with the benefit of established benchmarks and analytical insights.
Value-based care: As home healthcare providers prepare for the first demonstration year in January 2023, many of the factors above will come into full play. Choose Home will provide the means to expand care in-place, but with it will come more responsibility for demonstrating optimal outcomes at the lowest cost and highest level of effectiveness. Best-in-class technology will be essential to ensure not only performance but the reporting required to meet CMS standards and remain competitive in the market. Jeff pointed out that strategic partnerships, particularly with acute providers and referral sources, will be critical and agencies will need to bring their own data to the table to prove their readiness for such arrangements. Technology-aided communication should not be underrated as these collaborations will begin to involve a greater number of stakeholders outside an agency's own walls.
Staffing crisis: As Gary stated at the beginning of the discussion, these priorities are occurring amidst the looming shadow of a historic clinical shortage. While the panelists agreed the industry won't likely see much relief through 2022, providers should do their best to foster retention through thoughtful clinician development, relationship-building, and engagement strategies to make them feel more vested in overall outcomes.
Forcura, our event host and preferred partner since 2018, aligns with these same goals by providing communication and workflow tools that integrate with HCHB and allow home healthcare agencies to operate at peak performance. Having served the post-acute care sector over the past 10 years and witnessed its heightened need during the pandemic, Forcura believes there is not a more deserving group of healthcare professionals to have finally earned a seat at the table. We couldn't agree more.
However, our collective responsibility to evolve and transform care is only just beginning. Besides the obvious staffing crisis, the market will pose many other challenges over the next several years that will require ingenuity, foresight, discipline, and a bit of boldness to prepare for what promises to be a busy future for healthcare providers. For more insights regarding post-acute care's current position in preparing for these challenges, be sure to review the 2022 Home Health Care News Outlook Report or Forcura's study, ​"2022: The State of Connectivity in Post-Acute Care," which debuted as a complement to the Summit and is based on a cross-sectional survey of healthcare providers and proprietary data.
There will certainly be plenty of patients to serve as baby boomers enter their golden years, but these will be shrewd consumers who expect quality and value from their providers. CMS will likely only get more stringent with providers, requiring proof that care consistently matches consumer and regulatory demands. Ensuring your own house is in order will allow you to participate in a steadily progressing effort to connect all post-acute providers with one another, creating a data-sharing ecosystem that will smooth patient transitions, provide transparency, and leverage expertise – ultimately contributing more value to all parties involved. The decisions and groundwork we lay now will have a profound effect on how soon and effectively we can achieve these goals.
Forcura and HCHB are here to turbocharge your business's evolution. Our partnership to provide you with the tools you need for success doesn't merely double your ability to transform your business – it increases it exponentially. Contact HCHB or request a demo to learn more about our EHR software or visit Forcura's partner webpage to learn more about how our software solutions work together!