Introducing HCHB Personal Care
Empower Personal Care with HCHB
Homecare Homebase's new EHR solution to support personal care is now available for your agency!
Personal care services allow clients to remain in their homes through the support of aide services that assist with ADLs (activities of daily living). HCHB's personal care solution tackles the unique point of care and agency management challenges that come with providing hourly aide services often with extended lengths of stay and multiple reimbursement models.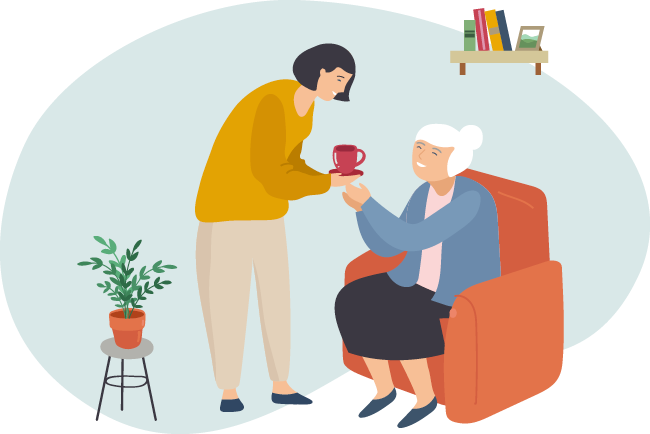 What Comes with HCHB Personal Care?
At the Point of Care
Support mobile caregivers with a "bring your own device" (BYOD) model at the point of care that includes:
Real-time GPS and historical timeline map
Android and iOS compatibility
Secure HIPAA 2-way messaging
Patient and visit specific care plans
Change in condition alerting
Caregiver engagement with notifications
And more!
Intake workflow designed for personal care services


Worker management that supports frequency-based discipline and payroll flexibilities

Track supervisory visits by completed dates, due dates and payor rules
Automated alerts and controls for expiring items
Account for county and city minimum wage rules



Authorization management that includes automated workflows allowing unit-based authorization with limits by day, week, month or period

Track and manage under and over servicing for clients



Revenue cycle management designed to reduce denials and re-bills and support timely filing, retroactive rate changes and automated eligibility checks

Expanded billing capability for split claims, shift aggregation and unique programs



EVV integration

Claims release and invoice matching
Automate exception management
Secondary claims status reporting



Utilize a master schedule for all service lines with the ability to match clients with caregivers that have the correct skills for their needs

Track and reduce overutilization with real-time visit variance
Real-time visibility into caregiver availability
Schedule and track supervisory visits based on payor settings
Shift manager
The Next Step for HCHB One Vision
HCHB Personal care is the first major platform extension as part of "HCHB One", our vision to provide ONE platform to support all clinical documentation agency management workflows in home-based care settings. This vision will incorporate future expansions into additional service areas and technology advancements to create a seamless patient record across all service lines within HCHB.
Please fill out the form below to receive more information.